Jalen Green and Isaiah Todd made all sorts of waves this week with the decision to bypass college and enter the G League's new development program.
Both players were previously expected to be one-and-done stars, but they have instead chosen a new route, reportedly earning upwards of $200,000 along the way.
On the surface, this program seems like a no-brainer for some prospects. Earning up to a half-million dollars with all expenses paid while competing in front of NBA personnel with no 8 a.m. classes? There's nothing not to like about that for an 18-year-old NBA prospect.
The deeper you dive, though, the financials get more complicated.
To take a step back, here are each of the top-30 recruits in the one-and-done era who didn't spend their post-high school season in college, similar to Green and Todd this year.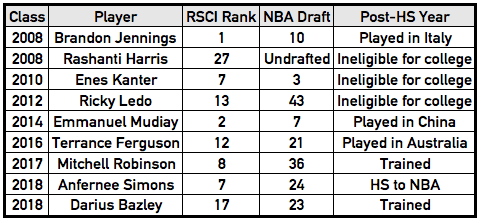 As the table shows, Enes Kanter is the only one of the nine players who was drafted higher than his recruiting rank. With the exposure that national television broadcasts, college fanbases and March Madness brings to college players, it makes sense why the majority of these players saw a dip in draft stock compared to their high school rankings. Each of these prospects who went abroad competed in front of much smaller audiences during the middle of the night in the United States.
Needless to say, there is precedence for Green or Todd to slip a few projected draft spots. Emmanuel Mudiay was the No. 2 overall recruit in 2014 and averaged 18 points, 6.3 rebounds and 5.9 assists per game in Italy but was taken No. 7 in the 2015 draft behind three one-and-done guys, two European products and Kentucky junior Willie Cauley-Stein.
In fact, Jalen Green can even perform above expectations during his G League stint and still fall in the draft order.
Take RJ Barrett last year, for example. The Duke wing was RSCI's No. 1 overall recruit and led the Blue Devils to a 32-6 season and Elite Eight berth. Barrett had about as good a college basketball season as any player could imagine. He was a consensus All-American, started each of his 38 appearances on the nation's No. 1-overall-seeded team and averaged 22.6 points, 7.6 rebounds and 4.3 assists per game. He was an absolute stud.
It just so happened, though, that Barrett's teammate, Zion Williamson, lit the world on fire in one of the most dominant individual college basketball seasons of all time. Oh, and there's also Ja Morant, a Murray State sophomore guard who had minimum interest out of college and turned in an All-American season.
So there you have it: RJ Barrett averaged over 22 points per game and was an All-American on a Duke team that reached the Elite Eight, and he still fell from the projected No. 1 pick to being taken third overall in the draft behind Williamson and Morant.
Exposure and performance weren't issues at all with Barrett. Almost every Duke game was on national television and Barrett delivered at a high level, yet his two-year projected NBA earnings went from a possible $14.7 million as the No. 1 overall pick to $11.8 million as the No. 3 overall pick. He lost out on $2.9 million over a 700-day span to no fault of his own.
Now take Jalen Green, who won't have the exposure of donning a Duke uniform, playing on ESPN every night or competing for a Final Four. No one truthfully knows what the G League setup will look like or how much media coverage these players will receive. We do know, though, that Green won't be on ESPN as much as Kentucky's Terrence Clarke or even Florida State's Scottie Barnes next season. Green won't have an article written up about him from every major sports media outlet on Selection Sunday. He might not even have publicly viewable stats from his G League exhibitions.
With all this in mind, it's difficult to envision any of these G League players experiencing substantial increases in draft stock without the exposure that comes from college basketball. ESPN appearances don't drive NBA Draft stock, sure, but there are many cases of players leveraging huge March Madness performances to climb draft boards (hello, 2018 Donte DiVincenzo), leading to higher rookie contract guarantees.
Let's assume two things for the sake of simplicity: 1) Jalen Green is the projected 2021 No. 1 overall pick out of high school; 2) The G League will give Green $1 million to sign with its program.
If Green goes No. 1 in the NBA Draft as expected, he will have earned an extra $1 million because of his G League contract, which he would not have earned had he played college basketball. In hindsight, this would be a wise financial decision on Green's part.
However, now let's say USC's Evan Mobley — 24/7Sports' No. 2 overall 2020 recruit — has a fantastic season, averaging 20 points and 10 rebounds per game while being named an All-American. Let's also say that five-star Cade Cunningham of Oklahoma State has a breakout season as well, and now you have a similar situation as RJ Barrett last year. Green might have been amazing in front of NBA scouts in the G League camp, but now he's set to lose money. In fact, it would be a lot of money.
Over a four-year rookie scale salary based on 2019-20 figures, the No. 1 overall pick is set to earn a projected $33.6 million by 2023. If Green were to drop just two spots to No. 3 overall — even with the extra million in the bag from the G League — his projected four-year earnings would dip to just a hair over $28 million. Green pocketed the $1 million while everyone else was still in college, but now he's down over $5 million, and that's not even considering the possible shoe deals or partnerships the college stars might have earned stemming from their college exposure. Marvin Bagley, for example, signed a 5-year, $12 million endorsement deal with Puma after being a one-and-done at Duke in 2018. Green will absolutely receive an endorsement deal at some point, but will it be as substantial of a contract had he played for Duke or Kentucky instead?
To be clear, the NBA isn't really competing against the NCAA. NBA commissioner Adam Silver wants to keep future NBA talent in the United States where it's accessible and marketable, as opposed to players going overseas and competing while New York, Chicago and Los Angeles are all asleep.
Falling in draft charts will hurt any player financially, whether it's a college prospect or someone who went straight to the G League. But to say a player is simply choosing between a six-figure G League check vs. free room and board for two semesters at a university isn't looking at the bigger picture.