Welcome to a huge Saturday of college hoops! Things get going in a big way early with Iowa taking on Gonzaga in a battle of top 3 teams, alongside another top 25 matchup between Louisville and Wisconsin.
Elsewhere, don't forget we have not one but two neutral-site showcases today with the CBS Sports Classic (North Carolina vs. Kentucky; UCLA vs. Ohio State) and the Crossroads Classic (Butler vs. Indiana; Purdue vs. Notre Dame). Furman-Winthrop, Chattanooga-UAB, and Colorado State-Saint Mary's round out what will be an exciting day of college basketball. We're keep track of all the action below.
—PODCAST: Hope & Rauf Ep. 14 — Fixing Kentucky
—Rauf Report: Saint Louis, Arizona State, more
—SUBSCRIBE to
today!
College basketball schedule for Saturday's Top 25 games
[table "14" not found /]
Saturday's college basketball watchability index
Live updates, highlights from Saturday's key games
(All times Eastern; updates currently coming from @andrewdieckhoff)
2:00 a.m.: Congratulations to Manel Ayol for his first points in a Hawaii uniform. And with that, we *officially* say goodnight. See you next week!
1:54 a.m.: Almost to the finish line, and UH-Hilo hasn't quit.
1:19 a.m.: Curious what a "Mouse in the House" scenario looks like? I guess this is it:
1:15 a.m.: Uh, yup. We're watching this one.
1:05 a.m.: I'm on the West Coast, and I wanted to see how the actual last game of the night was going, so I checked in on Hawaii versus Hawaii-Hilo. I am very glad I did.
11:10 p.m.: What better way to say goodnight than with a Top 15 upset?
11:02 p.m.: BAW GAWD
10:58 p.m.: The wheels are coming off for the Seminoles after another turnover and transition bucket for the Golden Knights. Yikes.
10:57 p.m.: This is Isaiah Adams' first start. WOW.
10:55 p.m.: What a drive by Fuller!
10:52 p.m.: Not sure how I feel about this "wet" shtick. Kinda uncomfortable right now. Then again, probably not as uncomfortable as Leonard Hamilton. His team is only down four now, though, thanks to this MJ Walker three:
10:51 p.m.: HUSTLE PLAY
10:41 p.m.: Scottie Barnes almost gets the pick, but UCF won't be stopped!
10:40 p.m.: Count Brandon Mahan in on this upset effort:
10:34 p.m.: Isaiah Adams and UCF might just do this thing…
10:29 p.m.: OK folks, we might have a late-night upset on our hands! UCF is up four points on Florida State at the under-12 break in the second half. I thought we were getting ready to shut things down, but just when I thought I was out…
10:11 p.m.: …I see what you were going for.
10:08 p.m.: DAMEANE DOUGLAS, YOU BE CAREFUL OUT THERE
10:07 p.m.: Speaking of ranked teams beating up on nearby mid-major foes:
10:05 p.m.: Florida State leads UCF by five points at the break. Here's a look at the top performers from each side from ESPN:
9:51 p.m.: This sums up the Saint Mary's-Colorado State game nicely. Perhaps too nicely.
9:17 p.m.: For the first time since 2009, Stanford has beaten Arizona! 78-75 Cardinal. Huge win for Jerod Haase's club. This team looks like they could cause trouble in March… if they stay consistent.
9:13 p.m.: Ziaire Williams draws a charge from James Akinjo! Stanford will have a chance to put the game away.
9:11 p.m.: Yay. Monitors. Yay.
9:08 p.m.: Arizona will have the ball with less than 20 seconds to play and they trail by a point. Oh man, the Pac 12 is back! (to being a mediocre league with some good games)
9:04 p.m.: What about Spencer… Jongs? Hones? Jones?
9:03 p.m.: Anyone heard of this Jemarl Baker guy?
8:57 p.m.: We agree.
8:42 p.m.: Saint Mary's up 33-17 on Colorado State at halftime, providing further evidence that the WCC is a stronger conference than the MWC this season.
8:31 p.m.: Strong finish for Jordan Brown. *snorting smoke emoji thing*
8:30 p.m.: Arizona is staying close, but Stanford is still ahead against the Wildcats.
8:26 p.m.: Here's a strange sequence (with some strange sound?) from a good mid-major matchup. Saint Mary's controlling things early against Colorado State.
8:21 p.m.: Syracuse ends up walking over Buffalo in OT, and still, Jim Boeheim has concerns.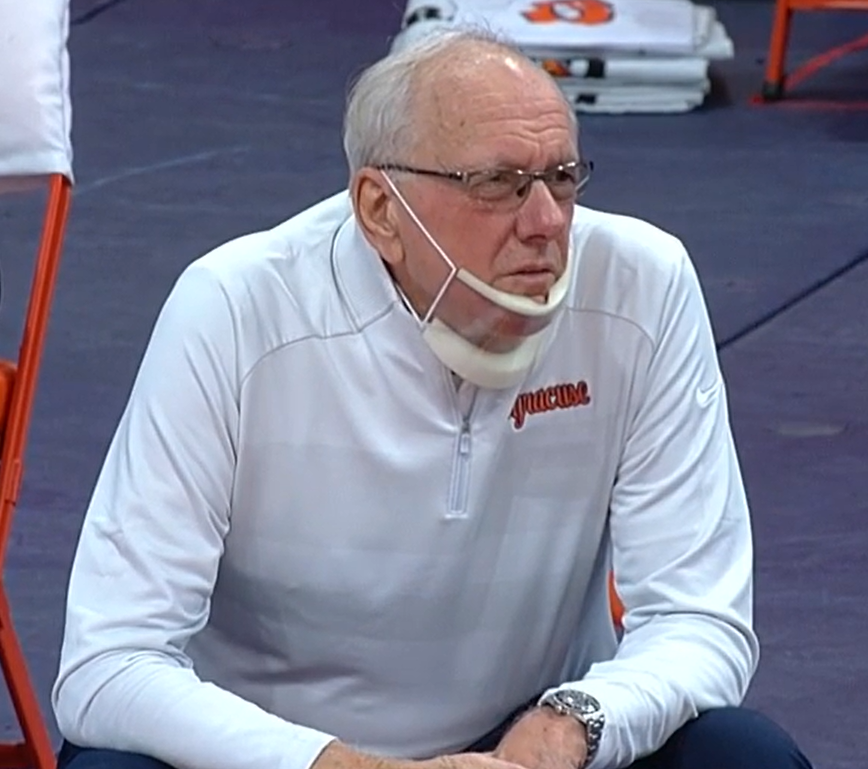 8:16 p.m.: Guess the sport.
8:09 p.m.: Guerrier is feeling it at the moment! 27 points, 11 rebounds. 96-92, Orange in control.
8:07 p.m.: Syracuse up a few after a quick start to OT.
8:05 p.m.: Here we go. (anonymous quote)
8:04 p.m.: Two HUGE defensive plays and a half-court shot that *just* missed! We're going to OT in Syracuse. Hold on to your hats!
8:01 p.m.: IT'S GOING TO BE A CRAZY FINISH IN THE SYRACUSE-BUFFALO GAME OH MAN
8:00 p.m.: But neither is Syracuse… Quincy Guerrier with the strong finish for the three-point play:
7:58 p.m.: These Bulls aren't going away!
7:55 p.m.: Some final numbers from the UCSB win over Pepperdine:
7:53 p.m.: All tied up now between Buffalo and Syracuse! It's a heated battle with three minutes to play!
7:50 p.m.: UCSB is going to hold on to beat Pepperdine, as the Waves' season continues its rocky trajectory. Just a matter of free throws, barring a massive, crazy series of events.
7:49 p.m.: Sometimes you need a little luck on your side. Buffalo stays on top against Syracuse, but the Orange are closing in.
7:45 p.m.: UCSB still holding on against Pepperdine:
7:34 p.m.: Well, aren't you a handsome couple of devils:
7:18 p.m.: Who's up for a little #Pac12AfterDark?? (Clearly Oscar is…my word!)
7:14 p.m.: Pepperdine has looked at times like one of the best teams in California, but they're struggling right now to put away their Golden State compatriots, UCSB. Gauchos hanging on to a four-point lead early in the second half.
7:12 p.m.: Doug Edert with a DAGGER for Saint Peter's!
7:07 p.m.: Make that SIX blocks tonight for Ndefo.
7:04 p.m.: KC Ndefo is doing his part to keep St. Peter's in front against Monmouth in this NEC battle. Ndefo was NEC Defensive Player of the Year last season.
6:57 p.m.: This is another one to keep an eye on…
6:52 p.m.: FLAGLER!!! Enjoy your moment. (Again.)
6:50 p.m.: Oh, and I guess some people might care about this Ohio State-UCLA game. If you're one of those weirdos, here's an update for you. Zed Key has 11 and 6 inside for the Buckeyes.
6:47 p.m.: Meanwhile, in upstate New York…
6:42 p.m.: College basketball in 2020: A happy family — including one slightly more corrugated member — enjoying a game as safely as possible.
6:39 p.m.: Well, hello, old friend! Flagler (Div.-II) already beat Central Michigan this year and kept it close with FIU. These Saints are some feisty devils!
6:36 p.m.: Oh. Oh no, Kennesaw.
6:32 p.m.: Jacob Tryon puts back a miss with four seconds left to put Samford up 64-63 over Kennesaw State. Can Amir Abdur-Rahim's team steal a last second win?
6:17 p.m.: Elsewhere, Winthrop cruises to 5-0 with a 87-71 win over Furman, which entered the day No. 65 in KenPom. Charles Falden had 18 points for the Eagles.
6:13 p.m.: Should be a solid finish coming up on CBS. Physical one here.
5:38 p.m.: Not what you want so far if you're Oklahoma.
5:11 p.m.: UCLA with a little dazzle here early vs. Ohio State.
4:53 p.m.: No. 2 Baylor leads Kansas State — which has a lots to D-II Fort Hays State this season — 56-27 at halftime. Not much to see here.
4:34 p.m.: In one of the top mid-major duels of the day, Winthrop is out to a comfortable 36-21 lead over Furman.
4:18 p.m.: Wow.
4:14 p.m.: Here at Heat Check we support many things, including 1) Safety) and, 2) Having announcers at the actual location of the game so they know what they're talking about.
4:08 p.m.: Another nice win for Western Kentucky, taking down Alabama on the road behind Charles Bassey's 27 points and 12 rebounds.
4:05 p.m.: Yiiiiiiikes. Olivier Sarr also fouls out after scoring two points.
4:01 p.m.: Foul trouble already beginning to hurt Kentucky in what has been an already foul-heavy afternoon. UNC holds a two-possession lead.
3:51 p.m.: Nice one brewing here between Alabama and Western Kentucky.
3:30 p.m.: Malone hanging in there with Akron!
3:21 p.m.: Ole Miss leads Dayton 31-24 at the half with 10 points from Devontae Shuler.
3:10 p.m.: Strong first half by Purdue guard Sasha Stefanovic, who has connected on four of his five 3-point attempts today to give the Boilers a 12-point lead over Notre Dame.
3:03 p.m.: Kentucky up 38-34 at halftime, looking to secure what feels like a must-win over North Carolina in the CBS Classic.
2:39 p.m.: After a quick start by Kentucky, North Carolina has climbed back into it.
2:36 p.m.: Yeah. This'll work from Isaiah Miller.
2:15 p.m.: Some housekeeping after Gonzaga's win over Iowa:
—No. 22 Kentucky vs. North Carolina (CBS) just tipped
—Western Kentucky vs. Alabama (ESPNU) underway
—Notre Dame vs. Purdue (ESPN2) tipping off at the bottom of the hour
—Ole Miss vs. Dayton (NBCSN) tipping off at the bottom of the hour
2:04 p.m.: Gonzaga was not about to lose their grip on the #1 spot in the rankings. One of the most impressive games of the season so far. The Zags win 99-88, led by Jalen Suggs' 27 points, 7 rebounds, 4 assists, 3 steals and 1 chase down block!
1:39 p.m.: We have our first final score of the day as Indiana downs Butler 68-60 in the Crossroads Classic. Trayce Jackson-Davis led all scorers with 21 points and 8 rebounds.
1:18 p.m.: Well this morning has not lived up to expectations so far, I wouldn't blame people for going to watch Ohio State lose a football game.
1:16 p.m.: The first half was all about Suggs and Kispert from deep, but the second half is Timme Time!
1:02 p.m.: The live blog king has spoken.
12:48 p.m.: That is it. Time to switch back to the other B1G vs Bulldogs game.
12:41 p.m.: Poor Auburn. They are playing one of their best games so far, and absolutely nobody cares.
12:31 pm.: This Zags run is a thing of beauty, but I just have to say…
12:28 p.m.: Do you think Chris Mack would be pulling his hair out, if he had any?
12:13 p.m.: We have an early battle between Butler and Indiana, and a huge start for Wisconsin. The B1G is busy early, even if everyone is watching their football game.
12:05 p.m.: Watching Corey Kispert draining threes and Luka Garza hooking his defender in ultra high-def. There isn't anything better.
11:55 a.m.: If arena size plays any factor in who wins this game, the Zags have a clear advantage.
11:51 a.m.: Like I said, busy morning…
11:42 a.m.: This Big Ten vs Bulldogs matchup is a good warm up for the upcoming Big Ten vs Bulldogs matchup.
11:30 a.m.: It is the busiest morning of the college basketball season, so far. As the great Arthur Fleck once said: